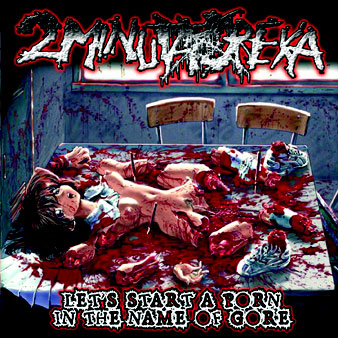 ***2 Minuta Dreka- Let's start a porn in the name of gore cd, Half Life recs.
This is the first full lenght of the italian answer to Gut, 21 tracks with 5 covers, 2 from Meat Shits (Hermaphrodite nightmare & Regurgitated semen), 1 from Haemorrhage (I'm a pathologist), 1 from Fear Of God (2 sides of the coin) and one from Gut (Perpetual sperm injection).
Lot of intros from various films too, from Troma films to Clerks, to random porn samples.
Titles are like Blood Bukkake, Semen Demon, Headcrashed Blowjob and some are in Italian too.
The music is a lethal mix of blasting parts with tupa-tupa and mid tempos, and some songs are pure noisecore since they last like 4 seconds.
The voice is always shifted and sometimes it has some well done parts with high vocals too, the guitars are powerful and the riffs are a bit metalish reminding of some of the primitive bands like Impetigo. The positive thing in my opinion are the drums, that are more focused on blasting parts than mid tempos, even if slow parts are not missing, think of a Gut bit a little bit fastened and raw and you got the 2 Minuta Dreka sound, and this is also because of the solid guitar work.
The only thing that could be annoying are the intros, sometimes longer than the song itself, but if you like Impetigo, you won't bother about it.
Well, in my opinion this release is a solid one, and it's worth buying if you are a porno/gore freak, because it's one of the few non cyber bands in the "scene" and it doesn't sound like lego adverts.
If you like spending your money on the new Gut's bullcrap go on, but if you were disapponted
check this out.
You can get your copy from
Half Life records
.